https://pacerwa.com.au/perth-refrigeration-mechanic-{suburbs:url}/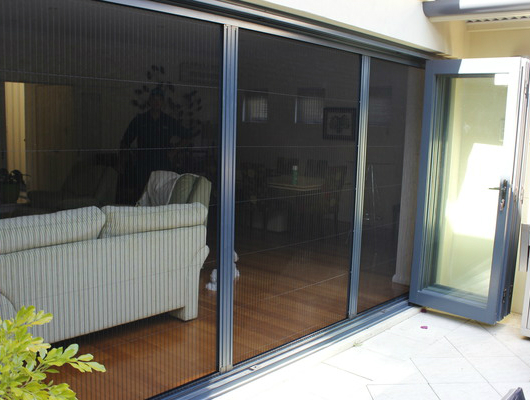 Retractable Fly Screens for Wilson
Prevent Insects and Other Airborne Pests with Quality Retractable Fly Screens
Having a high quality retractable fly screen in Wilson is an important feature that homes can utilise on any window or door that can be opened. Retractable Screen Company specifically designs retractable fly screens for use with windows, doors and large openings, that offer superior insect protection.
These features can save you money in the warmer months of the year allowing the home to be opened up in the evening to cool the house using the natural weather conditions, while avoiding having to worry about inviting in annoying insects such as mosquitoes. Our retractable fly screens also offer un-obstructed views so that you can enjoy all existing views while protecting your home from unwanted insects. We offer retractable fly screens in Wilson that are constructed using pleated polyester insect mesh, which is substantially more durable than using fibre glass mesh. Additionally to being more durable it also maintains the same level of transparency as the more traditional mesh material.
Our sliding screens require no mechanical internal moving parts as they are not spring loaded and are gently maneuvered into any position along the floor guide without the need for a brake. These screens use a unique tensioning system so that they can stop at any position allowing a greater freedom of movement.
Retractable Screen Company can fit screens to any type of door or window in Wilson. Our custom retractable fly screens are especially suited to large sized openings.
Retractable Screen company offer a large range of insect screens to suit most windows and doors. Some of the screens for for doors include bifold, french, sliding, stacker and servery doors. Features included by all these screens include 20mm semi transparent pleated polyester which provides maximum view and ventilation. These retractable fly screens are suitable for large or small openings, have a sturdy construction and are available in a full Dulux colour range.
All of our retractable fly screens come with a product warranty as we guarantee the quality of our insect screens.
Our partners at Sail City manufacture and install high quality shade sails in Wilson that are great for creating shaded areas over carports, pools, playgrounds and courtyards in both domestic and commercial areas.
If you are in the later stages of building your home or want to better utilise the cooler times of day and protect your family from unwanted insects in Wilson, make sure you think of Retractable Screen Company. Retractable Screen Company performs installations all over Western Australia including installations of retractable fly screens in Perth.
Other great companies that we work with: